These briefing notes provide a summary of About Drought research. The following topics are currently available:
Which farming areas of England and Wales are most at risk from economic losses due to drought?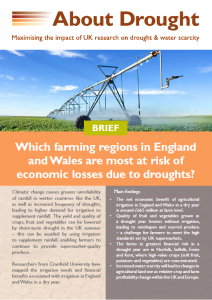 This briefing note looks at the effects of water scarcity and drought on crops which require supplemental irrigation, and includes some ideas on steps which may help to mitigate losses to farmers. This is the first of a series of briefs to support improved decision making in relation to droughts and water scarcity.