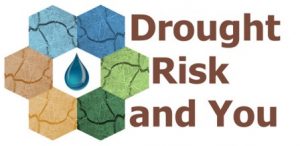 Drought and water shortage can severely affect us all through impacts on the environment, agriculture, infrastructure, society and culture.  The interdisciplinary DRY project started in April 2014, with the ultimate aim of developing an easy-to-use, evidence-based resource, to support decision-making for management of drought risk in the UK for a range of end-users.
The DRY project spanned seven catchments within England, Wales and Scotland to reflect different hydrological, socio-economic, environmental, and cultural gradients in the UK.
Unique approach to drought research
Unlike many other investigations which focus solely on mathematical modelling of drought risk and a single sector, the DRY project has taken a unique approach, bringing together different aspects of drought science and multi-stakeholder storytelling to better understand drought risks, the trade-offs among different management options and the tipping points that determine their outcomes.
A key part of DRY's research was to bring together different types of data to build a comprehensive picture of how drought risk will affect a range of different UK regions at catchment and local scales. To achieve this goal, DRY incorporated a two-way process for gathering and sharing local drought knowledge.
Story gathering and storytelling
Stories about water resources and drought were stimulated through memories of historical drought events, discussions around drought images, citizen science, and imagining the possible outcomes of drought which arise from the hydrological drought models iteratively developed in the team. The stories themselves then provided contexts that fed into our mathematical hydrological drought models through which we explored scenarios of what might happen in potential future droughts.
Outputs from our research include the DRY Utility, a resource to support decision-making which incorporates the DRY searchable Story Bank; the DRY Story Map; and DRY Guidance on its approach, alongside papers in wide-ranging journals across disciplines.
Prof Lindsey McEwen, DRY Project leader, University of the West of England
Posted October 2019