These briefing notes provide a summary of About Drought research. The following topics are currently available:
Primers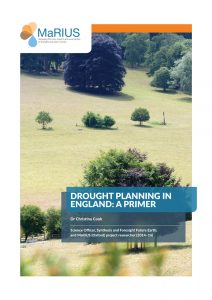 This primer explains and examines statutory drought planning in England by water companies. A water company drought plan sets out the company's operational plans for drought; it explains the management actions a company will take in the course of a drought. A water company drought plan is related to and based upon, the Water Resources Management Plan – the mandatory twenty-five-year plan water companies must prepare every five years. Here we aim to provide an accessible guide to the process of drought planning in respect of public water supply. This primer also offers an overarching view of how drought planning works in practice, based on conversations with water managers in a range of organisations including water companies, regulatory agencies and consultancies. It pulls together disparate wide-ranging key materials, (e.g. legal provisions and public policies relevant to managing drought) and attempts to add transparency to a highly technical process.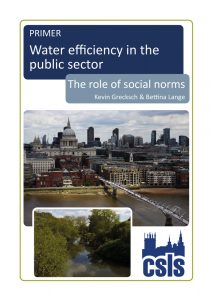 This Primer presents findings from academic and grey literature and previous case studies about the potential of water efficiency campaigns to contribute to water saving in the UK within the public sector and large organisations – universities, schools, hospitals, council buildings, offices and housing associations. These organisations provide the significant untapped potential for water-saving by virtue of their size and/or their nature as public organisations.