A creative challenge to children to read and enjoy this engaging STEM book and use their imagination to illustrate what their community would look like if we all used water more wisely
What would your home, school, or garden look like if we were to use water more wisely?
Competition open to 5-9 and 10-13 year olds
Individual and class prizes
Supported by online teacher notes in English & Welsh
The competition is now closed, winners will be announced in due course.
A collaboration between the DRY Project (University of the West of England) and Waterwise in conjunction with Water Saving Week, May 17th-21st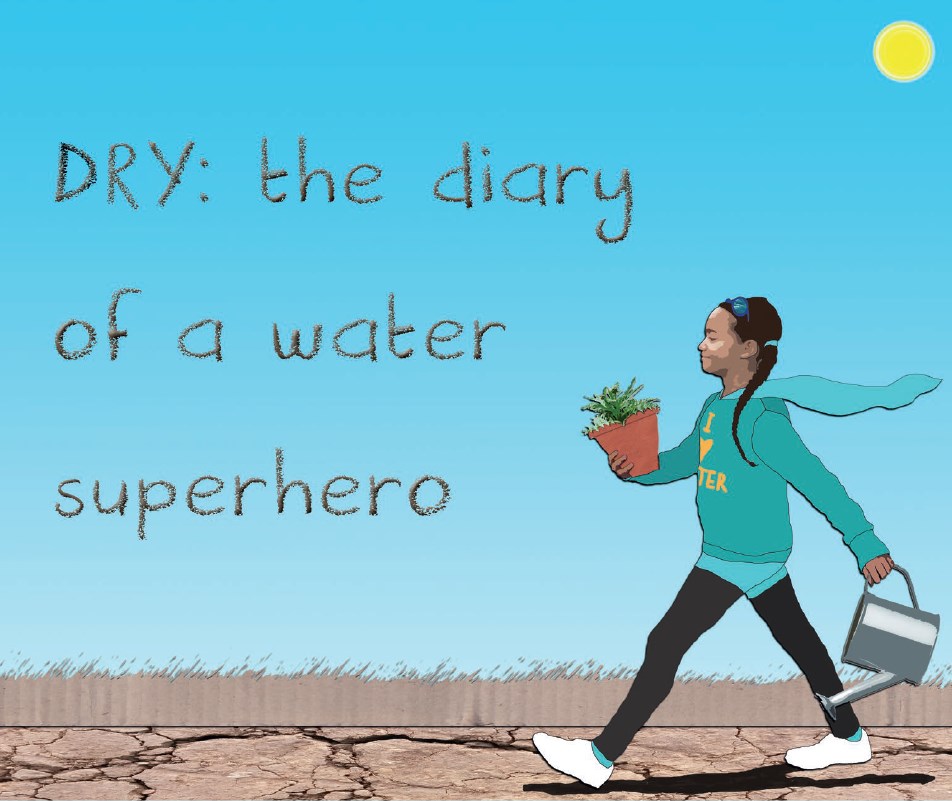 Having won the Geography Association Publishers' Silver Award, DRY: The Story of a Water Superhero, provides an ideal opportunity to engage young people to think about water use and enable positive behaviour change.
For teachers, this curriculum-led creative competition offers an ideal opportunity to embed geography, science and PSHE into real-world learning, informed by evidence-based scientific research. It can be carried out in lessons / activities or set as a homework assignment. It is also ideal for out-of-school activity groups.
The aim of the competition is to:
Raise awareness of the importance of treating water as a precious resource in the face of climate change, based on the research of the Drought Risk and You (DRY) Project
Teach the causes of and impacts of drought in the UK
Prompt changes in behaviour to use water more wisely – inspiring children to be agents of change, to protect our communities and our planet, carrying the message back to their homes and families
To give them the confidence and background knowledge to engage with some of the themes and messages of COP26, the world's biggest climate change summit being hosted by the UK in Glasgow in November
Communicate the accessible science behind the DRY Project, part of the NERC-funded About Drought programme
The competition is being promoted through schools and out-of-school groups with teachers / leaders encouraged to use the DRY Project's teacher notes to explore the theme of the book, environmental challenges and science to inspire children.
Age groups: 5-9 years and 10-13 years.
Prizes: A package of prizes is being offered in each age group, in each of the home nations – the entrant wins a copy of the DRY: The Story of a Water Superhero book, a water bottle and a £20 book token; their class receives a bundle of 30 copies of DRY: The Story of a Water Superhero – available in Welsh for prize winners in Wales – along with other visually attractive and instructive materials, such as DRY's family-focused water use Z-cards and DRY Drought Poster. Judges will be able to award copies of the book for Highly Commended individual entrants.
The Challenge
Get designing for change… inspired by DRY: The Diary of a Water Superhero
What would your home, school, or garden look like if we were to use water more wisely?
Answer this question in whatever way you prefer.
How to Enter
The competition is now closed, winners will be announced in due course.
Written entries – submit as a PDF
Illustrative entries & photos of models – submit as a .jpg
Videos entries – submit as .mp4 (max 500MB)
Bulk entries – (eg for classes and groups) maximum overall file size 1GB
Deadline
The competition is now closed, winners will be announced in due course. See Ts&Cs for further details.
Access the online DRY: The Story of a Water Superhero book and teacher notes here.
Judging: Judges will be looking for imaginative ideas (rather than judging on artistic or technical skill) that demonstrate entrants have read the story, and thought carefully and creatively about how we can use water more wisely to protect their community and the planet.
Winners will be announced by the end of June/beginning of July 2021.
The judges are: Professor Lindsey McEwen (leader, DRY Project); Nicci Russell (Managing Director, Waterwise), Victoria Williams (Environment Agency); Hannah Lacey (Natural Environment Research Council) and Luci Gorell Barnes (DRY: The Story of a Water Superhero artist).
Professor Lindsey McEwen of UWE, who leads the DRY Project, says: "This is a crucial time to engage young minds with the topic of water as a precious resource. The DRY book is designed for Key Stage 2 but we know it has wide appeal including KS1 and KS3. We are looking forward to seeing exciting and innovative ideas from children who are thinking creatively about the difference that their actions can make to their community, the environment and our planet in our changing climate."
Nicci Russell, Managing Director of Waterwise, says: "At the end of a year of lockdown, when children and their families have seen first-hand every day how vital water is to life, I'm really excited about this project and can't wait to see the amazing entries from schools across the four nations of the UK.
"Water scarcity is a problem right here, right now, and even parts of the UK we might consider really wet have had problems getting water through to customers in the last couple of years – think Wales, Scotland, Northern Ireland, and the North West and South West of England! In the UK we've doubled how much water each person uses every day in the last 60 years (shocking!), and we're going to need to halve it again in the face of climate change. Children and young people are a key part of the solution and I know from my own school visits how they cut through the 'guff' and come up with amazing innovations!"
Entry deadline: Competition entries must be submitted via the Waterwise website, May 1st-June 6th.
Ts&Cs:
This competition is jointly organised and promoted by the University of West England (Bristol) and Waterwise who retain the right to amend any competition details at any time.
There is no charge for entries.
Prizes will be as stated, no cash alternative is available. In the event of a prize or prizes being unavailable, an equivalent alternative will be determined by the judges.
By entering this competition entrants accept these terms and conditions, as well as the entry conditions, and those communicated in any other way by the organisers.
The competition is open to all young people in the age groups 5-9 and 10-13, resident in and / or at school in the United Kingdom, i.e. England, Northern Ireland, Scotland, and Wales. Also open to the same age groups via out of school groups (ie Beavers, Rainbows, holiday clubs etc) and as individuals.
Entries are welcomed from individuals who met the criteria, as well as from groups (ie schools, classes, Beavers, Rainbows, holiday clubs etc).
Entries must be made via the Waterwise website, using the link given in the instructions to qualify. Written entries must be submitted as a PDF; illustrative entries & photos of models as .jpg files; videos entries as .mp4 files, maximum size 500MB and no more than 2 minutes long. Multiple entries (for instance from a school class or activity group) are welcomed but must be sent in batches so as not to exceed the file size limit of 1GB. No physical entries should be submitted, if they are the organisers are not able to accept or return them.
By entering this competition entrants and their parent / guardian / school / group organiser agree that the entry can be shared by the organiser, promoters, designated partners and media, digitally and / or electronically. Entrants grant to the organisers and competition partners a non-exclusive licence to use and publish their entry, first name, name of the school or activity group, and town/village/city where they live in any media for the purpose of announcing the winner without any fee being paid.
Entries will be displayed on the Waterwise web page.
Web and email entrants are required to follow the instructions on the website as indicated in the competition information. Entrants will receive a message confirming entry to the competition. Web and email entrants will be required to supply their name, and/or email address and/or a contact telephone number and/or any other details. This must be done by a parent / guardian (aged over 18), a schoolteacher or young people's group organiser. Those submitting the entries must have the permission of the entrant's parent / guardian.
Data protection – other than for the purposes detailed no information will be shared in accordance with GDPR compliance.
Neither the organisers, nor their partners, nor any other party or organisation involved in the management, promotion, or administration of the competition or its entry routes or donation of prizes or their agents or subsidiaries involved in the competition will accept responsibility or liability for any error, omission, interruption, deletion, defect, delay in operation or transmission, communications line failure, theft, destruction, alteration of, or unauthorised access to entries, or entries lost or delayed whether or not arising during operation or transmission as a result of server functions (including but not limited to security functions by software used by Incisive Media or any third party), virus, bugs, or other causes outside its control.
Winners will be notified via the contact details submitted with their entry, by mid July 2021, unless otherwise notified via updates to these Terms & Conditions published on the competition page on the Waterwise and DRY websites.
The judges' decision is final and no correspondence / dialogue will be entered into.