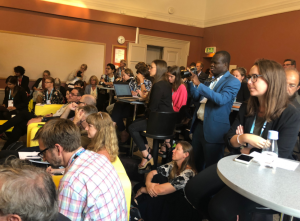 In late August 2018 Prof Paul Whitehead attended the World Water Week in Stockholm. This is the annual focal point for the globe's water issues. It was attended by over 3,300 individuals and around 380 convening organizations from 135 countries participated in the Week. Experts, practitioners, decision-makers, business innovators and young professionals from a range of sectors and countries come to Stockholm to network, exchange ideas, foster new thinking and develop solutions to the most pressing water-related challenges of today. The Water Prize attracts many entries each year; this year the junior prize went to two students from Singapore for producing reduced graphene oxide, a material that can be used to purify water, from agricultural waste products.
Paul attended many sessions and found these to be at a high level covering global issues with quite a focus on Africa this year. A strong reason for attending the meeting was to make contacts with others in the Water Sector, often at quite high levels. Paul rapidly got involved in a UN Habitats initiative to try to close the Sustainability Development Goal gaps, and in particular, ensure the provision of secure water for the entire world's population. UN Habitats and other organisations (e.g. WHO) are very keen to close this gap; it is a massive task but projects are beginning to have an impact, in terms of new thinking and new methodology.
Meetings were well attended with people standing or sitting on the floor to get a space (see photo below). Paul found himself in the Dutch Embassy attending a packed event and discussing a wide range of topics from the MaRIUS Drought Project to new ways to measure the environment using biosensors, plus trying to persuade the Dutch to invest in Oxford Molecular Biosensors.
It was also a real pleasure to see so many Oxford Water MSc graduates at the meeting with at least 11 attending, representing their current organisations such as the World Bank, OECD, National Governments and Water NGOs from around the world. The evening get together on a Thai Boat in a Swedish Harbour was a great way to celebrate their success.