Mon 30 April 2018, 10:00 – 12:30
Location: UWE Frenchay, BS16 1QY
Event organiser: UWE
Event type: Public open day
Booking: Register online
Join University of the West of England for a field trip with the researchers to discover the real-life effects of drought on our local grasslands, as part of Bristol Festival of Nature's City Nature Challenge.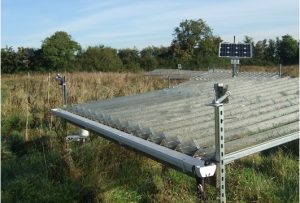 The Drought Risk and You project integrates physical science with social science and narrative to produce a decision making tool to help individuals and policy makers plan their response to drought.
Drought is a natural part of the UK climate but is predicted to become more frequent and severe in the future. Grasslands are by area the most important agricultural crop in the UK, and an essential feature of most parks and gardens.
You will learn about the experiments being done by UWE's researchers as they look at the effects of drought on plants and pollinators, learn about the types of measurement they make and why, and see some of the preliminary results. You can also help the team by making your own survey transect across the field and submit your findings to Bristol Regional Environmental Records Centre.
Booking essential, details of where to meet and parking available on application.For more information please contact: dry@uwe.ac.uk
Please note: we will be meeting on UWE's Frenchay campus and walking down to the research site through a rough woodland track. The track and fieldsite are not accessible for wheelchairs or pushchairs. Please dress appropriately for working outdoors.This event is suitable for adults and older children (10+).