Monday 1 July 2019
Location: Priory Rooms, Birmingham
Registration: Online registration
Aims of the workshop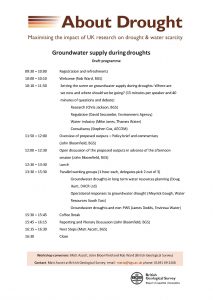 As part of the UK Drought and Water Scarcity Programme funded by NERC, we are planning a one-day workshop for groundwater professionals with an interest in water supply. The workshop will be held at the Priory Rooms in Birmingham on Monday 1 July. The aim of the workshop is to generate evidence and take guidance from the community for the production of two outputs. The first output will be a short policy brief on groundwater drought planning and management in the UK, similar in form to the Houses of Parliament POSTnotes series. The second output will be a longer commentary-style article for the peer-reviewed literature on the current state-of-the-art related to groundwater drought planning and management practices and an assessment of future applied research directions and requirements.
Context
We believe that opportunity to reflect on the status of the UK's current groundwater drought planning and management practices and on future research needs is timely given a range of recent government and industry initiatives. Reducing the risk of harm to people, the environment and the economy from natural hazards, including drought, is one of the core goals of the Governments' 25 year plan to improve the environment that was published last year. In England, water supply companies are just completing revisions to their Water Resource Management Plans and Drought Plans and will soon be preparing for the next planning cycle. In addition, over the last couple of years there have been a number of significant technical developments, for example publication of the UKWIR Drought Vulnerability Framework in late 2017; outputs from the NERC-funded UK Drought and Water Scarcity Programme, and the opportunities offered by the publication of the UKCP18 data.
Audience
We envisage that the workshop will be of interest to a wide range of groundwater and water resource professionals. Such as water company hydrogeologists responsible for groundwater aspects of drought management planning and operational water resource issues (e.g. groundwater resource situation reporting and forecasting); environmental regulators with responsibilities for groundwater resources, such as Environment Agency staff; and, consultants and academics with an interest in groundwater supply and drought.
Registration
Registration for the workshop is online and will be on a first-come, first-served basis. Please note places are limited so early registration is encouraged. The draft programme is available to download.
Workshop convenors: Matt Ascott, John Bloomfield and Rob Ward (British Geological Survey)
Contact: Matt Ascott at British Geological Survey email: matta@bgs.ac.uk phone: 01491 69 2408
Draft programme
The draft programme is available as a PDF download: draft programme.