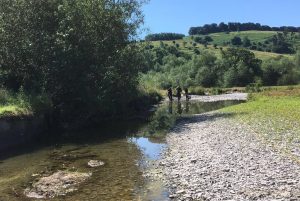 From hydrological modelling to drought communications strategies, from Italy to Birmingham, an impressive line-up of speakers has been released for the Drought & Water Scarcity Conference in Oxford – a must for anyone in research and policy aspects of water supply, quality, data, modelling, environment, agriculture, risk, policy, regulation and more.
The 2-day conference – March 20-21 – is organised by the UK Drought & Water Scarcity Research Programme (About Drought) and hosted by the University of Oxford. It will take an international perspective on droughts affecting our world, covering themes of climatology, hydrology, risks and impacts of drought, planning and impacts on communities and businesses.
Dr Helen Gavin, of the Environmental Change Institute at the University of Oxford, is manager of About Drought's MaRIUS project. She says: "The World Economic Forum has ranked water crises as among the top five global risks in 2019 – for eight years running.  Not only is it a major risk, but water crises are linked to many other social and environmental significant risks that confront our society. In our globally connected world, droughts and water scarcity affect everyone, and the unprecedented events experienced in recent years highlight a real long-term risk of severe drought.
"In response to this risk, our conference, "Drought and Water Scarcity: addressing current and future challenges", focuses on the science, impacts and management of droughts, featuring case studies from around the world from highly regarded speakers.
"This multi-themed conference features case studies from around the world, exploring the different facets of droughts from forecasting to the implementation of better decision-making frameworks, from the assessment and management of drought impacts on natural ecosystems and communities, to the use of storytelling, models and earth observation."
Conference speakers include:
The full programme can be viewed on our conference webpage, or downloaded as a PDF. Tickets cost £90 (2 days) or £50 (1 day).
Booking is open via the Oxford University booking system. Booking closes on March 13th.