All the data, all the learnings, all the resources, all in one place!
Thursday, November 7, 2019 from 10 am to 3.30 pm
Location: The Royal Society, London, SW1Y 5AG
Registration: via Eventbrite – free to attend but spaces are limited (note that registration closes on the 23rd of October)
Programme: draft programme (PDF)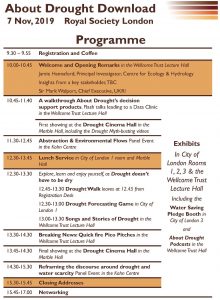 About Drought Download is the final event of the 5-year UK Drought and Water Scarcity Research Programme, showcasing the difference our work is already making. Register via Eventbrite – there is no charge for this event, but registration is necessary and spaces are limited. Please note that registration closes on the 23rd of October.
See the draft programme, so you can plan to attend this accessible, stimulating day. The event is aimed at decision-makers in water supply, the energy industry, policy, business, environment, agriculture or the public sector. Visitors can engage with hands-on multi-disciplinary programme outputs, listen to and question programme experts in a wide range of drought-related fields, network with people working on drought, and meet users of the outputs from the programme.
How is climate change affecting water supply in the UK?
What does it mean for policy and industry?
What forecasting breakthroughs have been made & how are these already being used?
How can we protect the UK's natural landscape from water shortage?