Hear what it was like to live through the 1976 drought from the people who were there, take in the dramatic experiences of firefighters battling wildfires in the UK and watch videos that break down the misconceptions about water shortage and drought in the UK, featuring people on the frontline of its impacts today.
Communications experts on the About Drought programme have produced a series of informative and evocative videos and podcasts which bring the research to life for all ages and audiences.
Podcasts & audio interviews reliving past droughts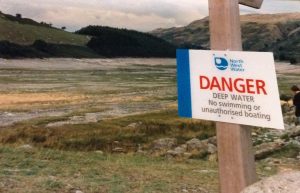 Dr Rebecca Pearce has sourced a series of fascinating audio interviews with people who experienced the 1976 drought first-hand from a wide range of aspects – for instance, did you know that in 1976 firefighters tackled moorland blazes wearing plastic uniform over-trousers that were melting in the heat? These are available as podcasts and will also be published in written form.
These can be accessed via the Historic Drought Inventory which includes a large collection of corresponding news reports and drought records as well as the audio recordings. About Drought has presented the 'Who'd Have Thought That…' series on our own channel on the SoundCloud platform.
Rebecca says: "The experiences of droughts by people in the UK can vary considerably. From being barely noticed to being so severe they create long-lasting memories that can be recalled in an instant. This is because although water is essential for life and we'd all notice if we did not have a reasonable level of access to it for drinking, cooking, and hygiene, we are fortunate to have benefited from many years of progress in water engineering, which has resulted in our generally having security of supply."
Myth-busting videos
A real challenge to communicating the urgent need to change our behaviour around water use – whether you are a water company, managing a waterway or creating policy – is the inbuilt misconception in the UK that it's always wet and rainy, that drought is only an issue in other parts of the world.
About Drought series of Drought Myth Busting videos debunks popular misconceptions – such as 'Droughts Only Happen In Summer' and 'Britain Is Wet: Droughts Don't Happen Here' – through interviews on location with people on the frontline of water shortages, such as father and daughter dairy farmers David and Fran Herdman as well as About Drought experts. These are available on the About Drought YouTube channel.
About Drought science news video documentaries
About Drought's 'audience first' approach extended to an innovative 'news documentary' style of short films and podcasts, produced by national broadcast journalists to capture the interest of the general public as well as our stakeholders, particularly those tasked with drought communications.
We engaged news journalists to film on location and carry out interviews at our About Drought Showcase in March 2018 and the MaRIUS Workshop in 2017. We asked them to take the same approach as they would to a TV news assignment, picking out the angles they found most newsworthy and selecting their own interviewees and questions.
About Drought webinars
A rich resource of presentations from across MaRIUS events, featuring other elements of the About Drought research programme, are available to view on the MaRIUS YouTube channel.
Webinars covering the impact of drought on groundwater, water efficiency, historic hydrological droughts, drought forecasting, hydrological modelling of drought and low flows, a guide to outputs from the programme, community modelling, drought communications, water quality modelling in the River Trent, reconstructed flow data, and the hydrological status in the UK in August 2018, are available to view on YouTube. DRY's research capturing communities' own stories of water, shortages and drought, creating a story bank, developing a song from people's experiences, storytelling for research and promoting water efficient behaviour also features in a series of videos published on YouTube.