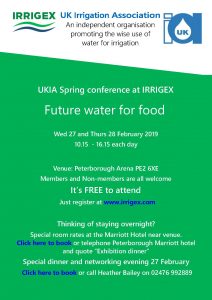 If you are going to IRRIGEX on February 27-28, you can talk to our experts from the About Drought programme on Stand 10.
With many farmers unable to fill their reservoirs and time running out for winter fills, our leading researchers will be available at the two-day exhibition, in Peterborough, for informal conversations about the wealth of decision-supporting data About Drought has already made available.
Two of our team – Professors Ian Holman and Jerry Knox of Cranfield University also feature in the impressive programme of speakers and seminars.
In last summer's drought some tools produced by About Drought – the £12m UK Drought & Water Scarcity Research Programme – were fast-tracked into real-time use in some sectors. Forecasts are currently indicating below average rainfall for this month and March so IRRIGEX is a timely opportunity to find out more about the tools available and how they can support your decision-making.
The theme for IRRIGEX this year is 'Future water for food' and it is free to attend. For full details visit www.irrigex.com. We look forward to meeting you on Stand 10.